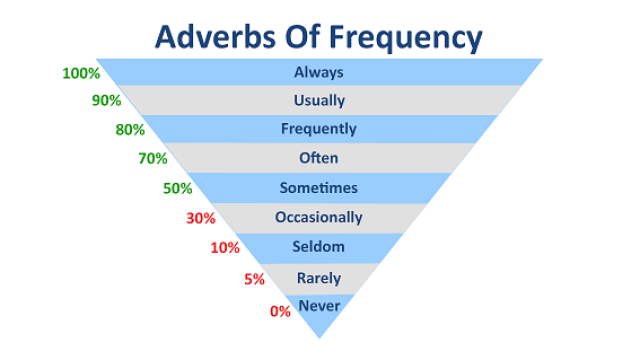 Activity
Read the paragraph first, and provide appropriate adverbs of frequency
---
The new school year has started and Amanda got a chance to meet new classmates and friends.

On the first day of school, Amanda met Micha.

Amanda: Hi! I am Amanda. How about you?

Micha: My name is Micha.

Amanda: Nice to meet you.

Micha: Nice to meet you, too.

Amanda: Is it your first time to study in this school?

Micha: No, I have been studying here for almost three years. I (1.____________) ask my mom to send me in this school because I love the environment here. How about you?

Amanda: Oh, that sounds great! I am a transferee. It is my first time to study in this school. My parents have (2.___________) heard of this school before. It is because we were living in another city then.

Micha: Well, I can say you have come to the right school. People here are really friendly and kind. You would see them (3.___________) smiling at you. They would even get to talk to you and share whatever they can.

Amanda: That is really nice. In my previous school, I (4._____________) find people who would greet me with a smile on their faces.

I am lucky to belong here.

Micha: Yes, indeed you are. There will (5.____________) be a dull moment for you here. We are here to (6._____________) cheer you up and talk to you.

Although, of course, (7.____________) the teachers have to be tough for us to learn independently.

Amanda: I understand. That is how we should get trained.