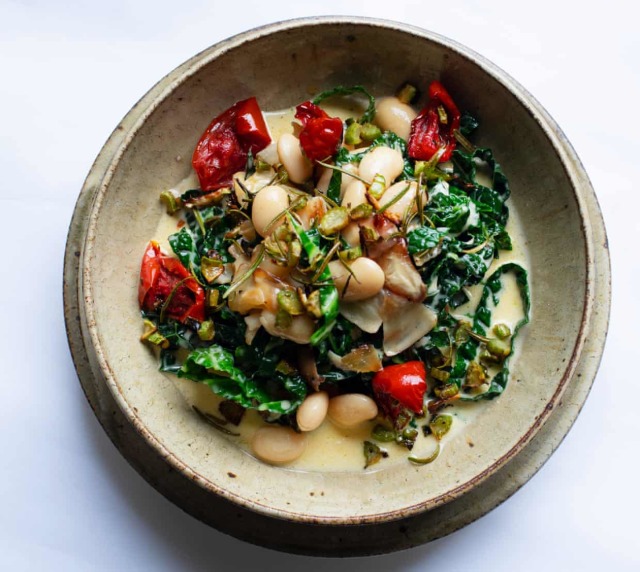 Activity
Complete each sentence choosing the correct option
---
Peel and roughly chop 3 medium-sized onions. Warm 3 tbsp of olive oil in a shallow pan, add the onions and let them cook over a moderate heat for 15 minutes or so, until translucent. Peel 3 large cloves of garlic, thinly slice them and stir into the softening onions. Continue cooking for a further 10 minutes or until the onions are golden brown and tender.
Cut the stems from 2 very large outer cabbage leaves (or 3 or 4 smaller ones) and set them aside. Stir 400g (drained weight) of canned butter beans into the onions followed by 250ml of double cream. Season. Leave to simmer over a low to moderate heat. Roll up the cabbage leaves and shred them finely, roughly the width of a pencil, then stir them into the creamy beans and onions. Leave to simmer.
Chop the cabbage stalks into small dice. In a second pan, warm 2 tbsp of the oil from a jar of mi-cuit tomatoes, then add the stalks and cook for 1 or 2 minutes until bright. Pull the leaves from 2 sprigs of rosemary, chop them finely and add to the cabbage stalks together with 80g of chopped mi-cuit tomatoes and cook for a minute or two.
Divide the creamy beans and onions between 2 large bowls then sprinkle over the sizzling stems and tomatoes. Serves 2.
Give the past past tense and past participle of the verbs.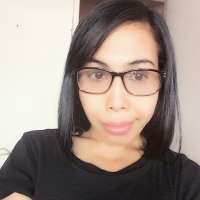 Need help?
Ask a question or reserve a class with Jennifer
Grammar
Vocabulary
(chopped) cut into small pieces

average in amount, intensity, quality, or degree

(peeled) get the skin out

(seasoned) add salt, herbs, pepper, or other spices to food

(sprinkled)scatter or pour small drops or particles of a substance over

(stirred) move a spoon or other implement around in