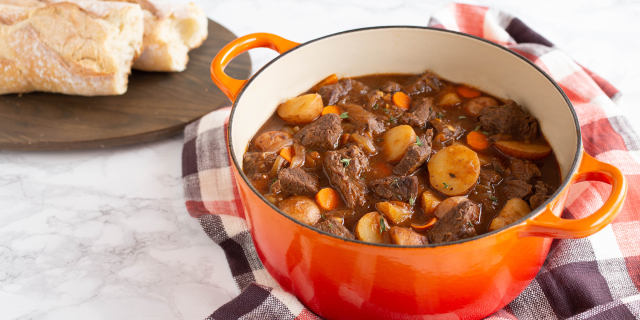 Activity
Complete each sentence choosing the correct option
---
A stew is a combination of solid food ingredients that have been cooked in liquid and served in the resultant gravy. Ingredients in a stew can include any combination of vegetables (such as carrots, potatoes, onions, beans, peppers, mushrooms, and tomatoes) and may include meat, especially tougher meats suitable for slow-cooking, such as beef. Poultry, sausages, and seafood are also used. While water can be used as the stew-cooking liquid, stock is also common. Seasoning and flavourings may also be added. Stews are typically cooked at a relatively low temperature (simmered, not boiled), allowing flavours to mingle.
Stewing is suitable for the least tender cuts of meat that become tender and juicy with the slow moist heat method. This makes it popular in low-cost cooking. Cuts having a certain amount of marbling and gelatinous connective tissue give moist, juicy stews, while lean meat may easily become dry.
Stews are thickened by reduction or with flour, either by coating pieces of meat with flour before searing, or by using a roux or beurre manié, a dough consisting of equal parts of fat and flour. Thickeners like cornstarch or arrowroot may also be used.
Stews are similar to soups, and in some cases there may not be a clear distinction between the two. Generally, stews have less liquid than soups, are much thicker and require longer cooking over low heat. While soups are almost always served in a bowl, stews may be thick enough to be served on a plate with the gravy as a sauce over the solid ingredients.
Need help?
Ask a question or reserve a class with
Grammar
Vocabulary
a sauce made from cooked meat juices together with stock and other ingredients

one of the things that are used to make a food, product, etc.

burn or scorch the surface of (something) with a sudden, intense heat

a liquid dish, typically made by boiling meat, fish, or vegetables, etc., in stock or water

parts of the body that connect or hold the other parts