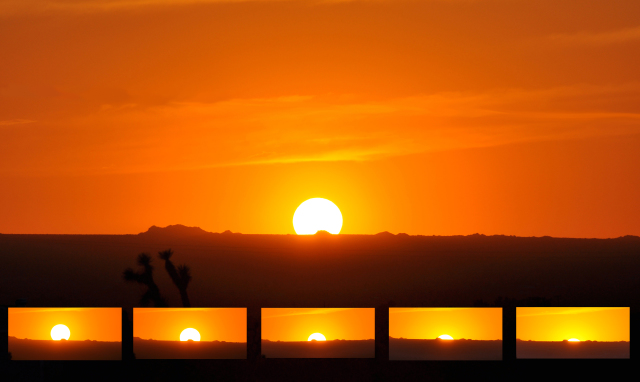 Activity
Complete each sentence choosing the correct option
---
Sunset, also known as sundown, is the daily disappearance of the Sun below the horizon due to Earth's rotation. As viewed from the Equator, the equinox Sun sets exactly due west in both Spring and Autumn. As viewed from the middle latitudes, the local summer Sun sets to the southwest for the Northern Hemisphere, but to the northwest for the Southern Hemisphere.
The time of sunset is defined in astronomy as the moment when the upper limb of the Sun disappears below the horizon. Near the horizon, atmospheric refraction causes sunlight rays to be distorted to such an extent that geometrically the solar disk is already about one diameter below the horizon when a sunset is observed.
Sunset is distinct from twilight, which is divided into three stages, the first being civil twilight, which begins once the Sun has disappeared below the horizon, and continues until it descends to 6 degrees below the horizon; the second phase is nautical twilight, between 6 and 12 degrees below the horizon; and the third is astronomical twilight, which is the period when the Sun is between 12 and 18 degrees below the horizon. Dusk is at the very end of astronomical twilight, and is the darkest moment of twilight just before night. Night occurs when the Sun reaches 18 degrees below the horizon and no longer illuminates the sky.
Locations further North than the Arctic Circle and further South than the Antarctic Circle experience no full sunset or sunrise on at least one day of the year, when the polar day or the polar night persists continuously for 24 hours.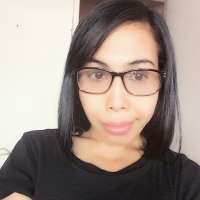 Need help?
Ask a question or reserve a class with Jennifer
Grammar
Vocabulary
(descended) move or fall downward

(distorted) pull or twist out of shape

an imaginary circle around the middle of the Earth that is the same distance from the North Pole and the South Pole

the area covered by something

the line at which the earth's surface and the sky appear to meet

measurement of the focusing characteristics of an eye or eyes

the soft glowing light from the sky when the sun is below the horizon